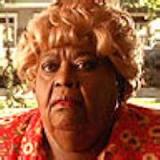 Hattie Mae Pierce, better known as Big Momma, is a character in Big Momma's House. She is Sherry's grandmother, Trent's great-grandmother, and Malcolm's grandmother-in-law.
Biography
Edit
Big Momma is known throughout Cartersville, she then leaves town to help a friend for two weeks. As she returns and surprised to see her surprise party and Sherry. Big Momma then forgives Malcolm and ends the movie by singing "Happy Day".
While not physically appearing in the film, Hattie makes a cameo appearance in a photo.
Personality
Edit
Hattie is a kind, friendly, outgoing woman who deeply loves her granddaughter Sherry.
However, when she is annoyed, she can get short-tempered, sassy, and violent.
Coming soon!
Ad blocker interference detected!
Wikia is a free-to-use site that makes money from advertising. We have a modified experience for viewers using ad blockers

Wikia is not accessible if you've made further modifications. Remove the custom ad blocker rule(s) and the page will load as expected.