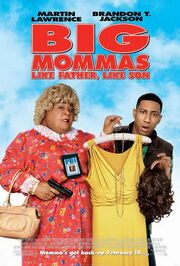 Big Mommas: Like Father, Like Son is an American crime comedy film and sequel to Big Momma's House and Big Momma's House 2, directed by John Whitesell.
The film stars Martin Lawrence reprising his role as Malcolm Turner. However, Jascha Washington declined to reprise his role as Trent, so he was replaced by Brandon T. Jackson.
The film was released on February 18, 2011.
FBI agent, Malcolm Turner has learned that his stepson, Trent Pierce has just been accepted into Duke University but he rather skip college to pursue his rapping career and needs Malcolm to sign a contract but he declines. While trying to capture a Russian gangster called "Chirkoff", Malcolm uses a informant named Canetti to deliver a flash drive and Trent plans to ambushes Malcolm on the job. Canetti reveals that the flash drive is empty and the duplicate is hidden at Georgia Girls School for the Arts. During the exchange, Canetti's cover is blown and is killed, which Trent witnesses. Malcolm eventually rescues him and they escape, but since Trent left his car at the scene which means the gang members will be able to track him down. Malcolm once again goes undercover as "Big Momma" and Trent goes as her great-niece "Charmaine". They then go to the performing arts school where Malcolm gets a job as a house mother and Trent is enrolled as a student.
Production
Edit
Coming soon!
Reception
Edit
The film was critically panned by critics, and only scored a 5% on Rotten Tomatoes based on 57 reviews.
Awards and nominations
Edit
The film was nominated for three Golden Raspberry Awards.
There is a rumor stating that there will soon be a sequel to Big Mommas: Like Father, Like Son.
Jascha Washington also did not reprise his role as Trent Pierce.
the two stars are Martin Lawrence and Brandon T. Jackson
This is most likely the series finale of the Big Momma's House film series, although there are rumors of a sequel.
Coming soon!
References
Edit